News and Information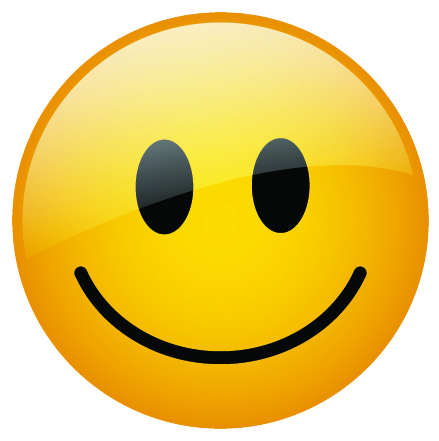 click here to download a copy of our current
SMILE & latest Membership Report

Get the latest free version of Acrobat Adobe Reader here:

---
---------------------------------------------------------------------
---
The American Legion
101st National Convention


---
FALL CONFERENCE
September 20-22, 2019
Gray Post 86
---
Veterans Emergency Financial Assistance Program (VEFAP)
American Legion and Easterseals Maine Partner to
Distribute Veterans' Emergency Financial Assistance
Veterans Emergency Financial Assistance Program (VEFAP) Application Packet
For Veterans Emergency Financial Assistance, please fill out the above application and submit via email to www.eileen@mainelegion.org or paul@mainelegion.org
or mail to: The American Legion, Department of Maine, 5 Verti Drive, Winslow, Maine 04901-0727

For questions pertaining to the Veterans Financial Emergency Assistance Program, please contact The American Legion, Department of Maine Veterans Assistance Department at 207-660-9324 | 207-873-3229 Ext. 3 | www.eileen@mainelegion.org or paul@mainelegion.org | or Easterseals Maine at 207-828-0754 Ext. 1004.

---
ACTION ALERT: Act today in support of our Coast Guard
S.21 and H.R. 367, the "Pay Our Coast Guard Act"
Contact your Senators and Representative today

Take Action!
The American Legion must continue to serve as a powerful voice for veterans. Our voice in our nation's capital is only as strong as our membership allows us to be. The American Legion's Legionnaires, Auxiliary members, and Sons of The American Legion are the heart and soul of our organization.


Today, we need your help in contacting your members of the Senate and House of Representatives. Please use the prepared message or your own letter to ask them to cosponsor and pass S.21 and H.R. 367, respectively. Your member needs to encourage congressional leadership to bring the
Pay Our Coast Guard Act
to the floor for a vote, and to promise to vote for this legislation, to ensure our members of the Coast Guard do not go without pay ever again.


Members of the US Coast Guard should never find their pay jeopardized because of partisan unrest in Washington D.C. There is a constant and real threat, because of any government shutdown, that without the action of Congress, the Coast Guard may not be able to pay their members. With the current political climate, we need Congress to take immediate bipartisan action. A select number of members of Congress have come together in bipartisan fashion to introduce S.21 and H.R. 367, the
Pay Our Coast Guard Act
, in this 116th Congress.


Earlier this year, the longest government shutdown in our nation's history came to an end, stopping what had been more than a three-week gap since more than 41,000 active-duty members of the U.S. Coast Guard had been paid. The American Legion's Temporary Financial Assistance (TFA) program was able to
provide more than $1 million
in non-repayable grants to approximately 1,713 Coast Guard families with 3,170 children.


TFA grants, like the ones distributed to Coast Guard families affected by the shutdown, are made possible through donations to The American Legion Veterans and Children Foundation at
www.legion.org/donate
. The foundation supports veterans and military families in need, as well as American Legion service officers who provide free VA benefits and health care assistance to veterans.


Contact your Senator and Representative today to tell them to pay the Coast Guard!


"The brave members of our Coast Guard risk their lives defending us daily, just like their sister services in the Department of Defense…. Whether they are performing rescues during a hurricane or stopping drug traffickers at sea, members of the Coast Guard regularly perform heroic and lifesaving tasks on our behalf. They should not have to worry about bills and living expenses just because Congress and the White House cannot agree on a budget." - Brett P. Reistad, National Commander.
---

NEW: The American Legion Department of Maine Foundation, a 501 (c) (3) charity organization is now up and running! Please click here or the FOUNDATION tab above to learn more.

---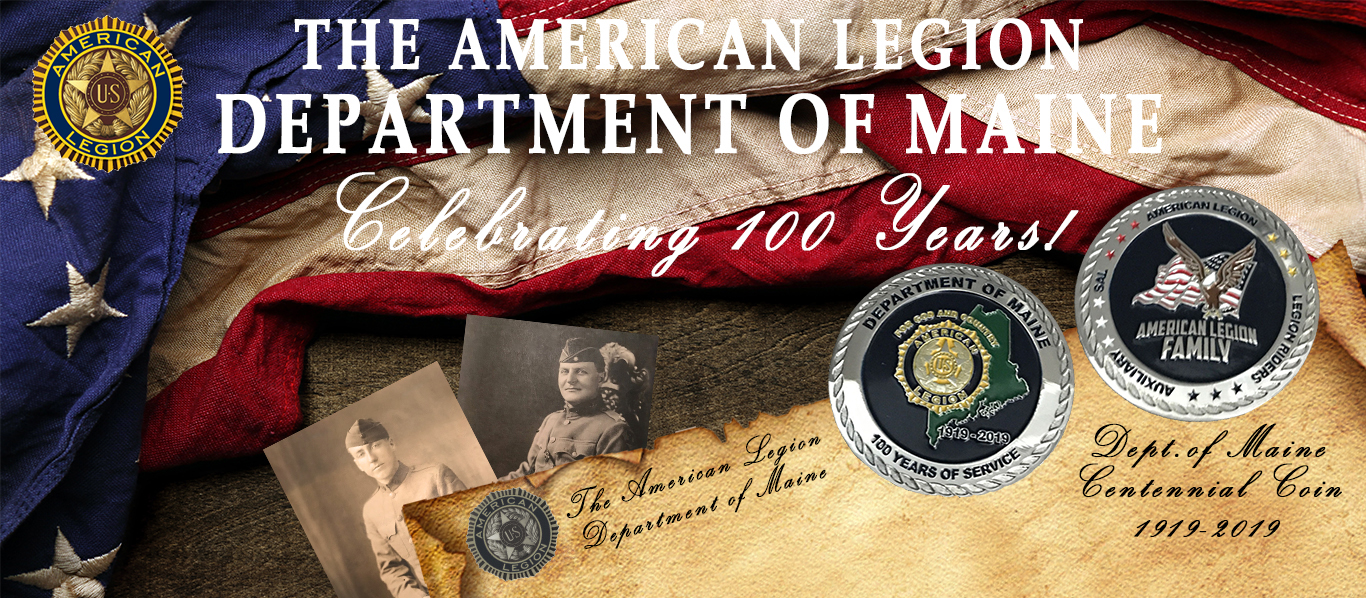 The American Legion, Department of Maine is getting ready to celebrate 100 years of service to Veterans, families and our local communities. The department has many plans in store for the next year leading up to a huge celebration for the Legion's 100th Birthday.

The Department of Maine has released a Centennial Coin, which can be purchased online, or by calling the Department directly at 207-873-3229. The coins are $10 each plus $5 shipping/handing. Coins are also available for free pick up at Department for $10 each. To purchase your coin, click on the Buy Maine Centennial Coin button below.

PLEASE ORDER YOUR COIN TODAY WHILE SUPPLIES LAST!




Click here
to learn more about the Department of Maine's Centennial Celebration
---
THE AMERICAN LEGION
NATIONAL COMMANDER BRETT REISTAD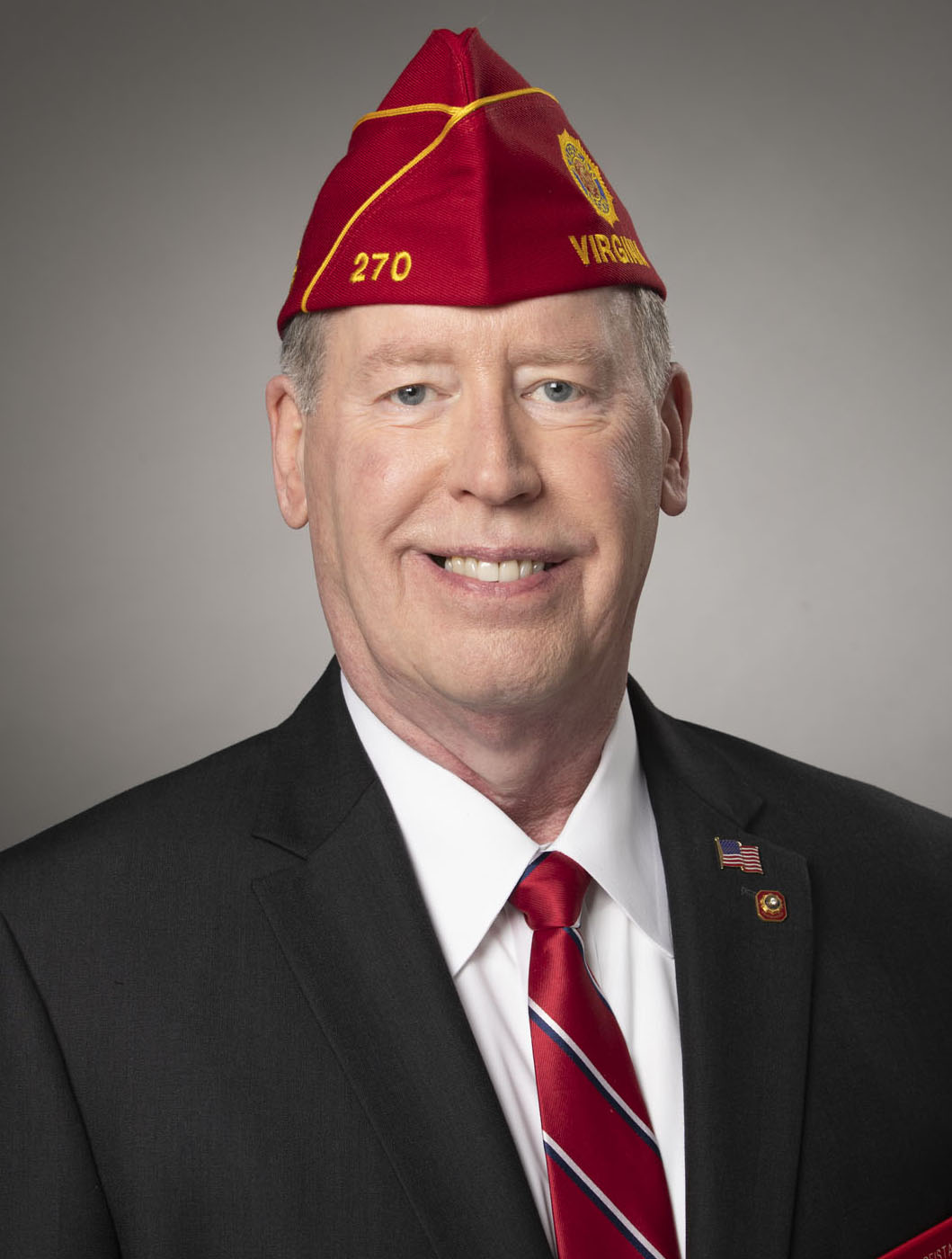 Brett Reistad of Manassas, Va, was elected National Commander of The American Legion on August 30, 2018, during the organization's 100th National Convention in Minneapolis, Minnesota.
Please
click here
to learn about National Commander Reistad's Pin Incentive Program
---
American Legion members interested in the discounted Paid Up For Life program can now easily join online. Please visit
www.legion.org/join/pufl
---
Free Information to Help Your Post & Its members.
Great News! A new issue of
The Post Insurance Times,
is now available. It's a great, free resource that gives your Post valuable loss control tips & information for the good of your Post community. Check out our latest issue...
---
Calling all Snowbirds...
The American Legion, Department of Maine was notified last year by National Headquarters that they have discontinued its "Snowbird" address change service due to duplication of time and effort spent processing and maintaining the requests. However, we here at Department Headquarters would like to continue that service to you. If you are a Snowbird, for example, you live in Maine from April-October and Florida from November-March, please
click here
and fill out the attached form to take advantage of this service.
---
LEGIONCARE COUNTDOWN ALERT
As previously announced, all Legionnaires now have the opportunity to assure their enrollment in LegionCare, the newly enhanced Accidental Death benefit available at No-Cost to all Legionnaires. LegionCare is a one-of-a-kind benefit offered exclusively to Legionnaires.
LegionCare provides all Legionnaires with:

· $5,000 in Accidental Death Coverage for covered accidents that occur if you are traveling on official Legion business.* $1,000 for all other covered accidents.
· 24/7 protection that covers Legionnaires at home, at work and while they are travelling away from home available for all Legionnaires in your Department.

IMPORTANT: All Legionnaires who are actively enrolled in the program will be automatically covered for the $5,000 AD&D protection. All Legionnaires who are not actively covered must activate their $5000 protection in order to be covered.

Legionnaires may also activate their coverage by going online at www.theLIT.com.

NEW: Click here and fill out the attached form. Email form to legionme@mainelegion.org or print a copy and mail to The American Legion, Department of Maine
Attn: Mona Naragon
5 Verti Drive, Winslow, Me. 04901

To learn more about Member Benefits, please click here.


---


95% of Hearing Loss could be corrected with hearing aids!
As an American Legion member, you, your family and extended family will receive hearing discounts from HearPO, those discounts include:

Guaranteed Lowest pricing guarantee*

Access to one of the largest hearing healthcare networks - over 2,7

00 locations

nationwide

.

Selection of over 1000 models from 8 leading manufacturers

3-Year warranty, one of the longest in the industry, covering repairs,

and 3-Year

loss & damage

coverage

.**
Full, free 60-Day trial period

with no restocking fee

.
Free multi-year supply of batteries (maximum 160 cells per hearing aid).

One year aftercare service free

with purchase of hearing aid(s)

Financing available


* Competitor coupon required for verification of price and model. Limited to manufacturers offered through the HearPO program.

Local provider quotes only will be matched.


** Some exclusions apply.

Limited to one-time claim for loss and damage.
-----------------------------------------------------------------
Simple 3-Step Process to access your discounts
1.

Call Toll Free 1-888-689-6281

(or visit www.hearpo.com/legion) and a Client Services Representative will assist you in finding a hearing care provider near you.

Mention you are with The American Legion.


2. The HearPO representative will explain the process, answer your questions, obtain your mailing information and assist you in making the appointment with a hearing care provider nearby.
3. HearPO will send an authorization packet to you and the provider. This will ensure your HearPO benefit is activated. You are responsible for the total bill, less the applicable savings, at the time service is provided.
It's that Easy!
---
MYLEGION.ORG
Access to MyLegion is now open to all Legion Members and Post/Department Leaders.
MyLegion.org is a website designed to connect members of The American Legion to their Post and Department leadership, other veterans with similar interests, and the vast array of services offered at every level of the organization. Click here for more information and access to Mylegion.org.
---
Military Discharge Requests
If you are a veteran whose home of record at time of entry into the service was the State of Maine then a copy of your DD-214 (or equivalent) may be on file at the Bureau of Veteran's Services.


Please click on the Application Request for Military Discharge link below if you are requesting a discharge from the State of Maine and mail application to the Bureau of Veteran's Services for processing.
For more information, please visit
www.maine.gov/dvem/bvs/military_discharges.htm
or
The National Personnel Records Center (NPRC) has provided the following website for veterans to gain access to their DD-214s
online:
http://vetrecs.archives.gov
This may be particularly helpful when a veteran needs a copy of his DD-214 for employment purposes. NPRC is working to make it easier for veterans with computers and Internet access to obtain copies of documents from their military files. Military veterans and the next of kin of deceased former military members may now use a new online military personnel records system to request documents.
Other individuals with a need for documents must still complete the Standard form 180, which can be downloaded from the online web site. Because the requester will be asked to supply all information essential for NPRC to process the request, delays that normally occur when NPRC has to ask veterans for additional information will be minimized. The new web-based application was designed to provide better service on these requests by eliminating the records centers mailroom and processing time. Please pass this information on to former military personnel you may know and their dependents.
---
Real Estate & Personal Property Taxes
The following is quoted as an excerpt from the Maine law, which will exempt most Legion Post homes from real estate or personal property taxes levied by municipalities.
"E. The real estate and personal property owned, occupied and used for their own purposes by posts of the American Legion, Veterans of Foreign Wars, (other organizations also named)………..that are used solely by those organizations for meetings, ceremonials or instruction or to further the charitable activities of the organization, including all facilities appurtenant to such use and used in connection therewith. If an organization is not the sole occupant of the property, the exemption granted under this paragraph applies only to that portion of the property owned, occupied and used by the organization for its purposes."
"An organization or institution that desires to secure exemption under this section shall make written application and file written proof of entitlement for each parcel to be considered on or before the first day of April in the year in which the exemption is first requested with the assessors of the municipality in which the property would otherwise be taxable.
If granted, the exemption continues in effect until the assessors determine that the organization or institution is no longer qualified. Proof of entitlement must indicate the specific basis upon which the exemption is claimed."
These are two excerpts from the law, which is approximately seven pages long, to allow American Legion Posts to claim an exemption from municipal property taxes. We have copies of the entire law here at the HQ office if anyone would like a copy, just call and we will get it in the mail to you. Or see it at the
State of Maine Statutes page here
. (link opens in a new window)
---
Presidential Memorial Certificate
The Presidential Memorial Certificate is a parchment certificate with a calligraphic inscription expressing the nation's grateful recognition of a veteran's service. The veteran's name is inscribed and the certificate bears the signature of the President.
ELIGIBILITY
– Certificates are issued in the name of honorably discharged, deceased veterans. Eligible recipients include next of kin, other relatives and friends. The award of a certificate to one eligible recipient does not preclude certificates to other eligible recipients. The veteran may have died at any time in the past. The local VA regional office generally originates the application for a Presidential Memorial Certificate if a veteran's death is brought to official attention. The next of kin may request a certificate when a service member dies on active duty or if the veteran was not receiving a VA benefit. Requests should be accompanied by a copy of a document such as a discharge to establish honorable service. VA regional offices can assist in applying for certificates. If you would like to request a Presidential Memorial Certificate or if you requested one more than eight (8) weeks ago and have not received it yet, VA asks that you either:
1. Fax your request and all supporting documents (copy of discharge and death certificate) to: (202) 565-8054, or
2. Mail your request and all supporting documents using either the U.S. Postal Service or a commercial mail service, such as one of the overnight or express mail delivery services, to:
Presidential Memorial Certificates (41A1C)
Department of Veterans Affairs
5109 Russell Road
Quantico, VA 22134-3903
If you have any questions about a certificate you have received, a request you have already sent in, or about the program in general, you may call (202) 565-4964.
---
American Legion Legacy Scholarship Fund

We are raising funds to ensure that higher education will be a reality for these families. Providing for the children our military personnel left behind is our civic duty. An education is a powerful way to show our thanks. That is why we have established the American Legion Legacy Scholarship Fund. But we need your help.

A Critical Gap
The American Legion fights to see that our active-duty military personnel and their families are looked after. But despite our efforts, recent years have seen a significant shortfall in dollars allotted by our government. The educational benefit provided to surviving children is one of these critical gaps.

The total survivor benefit for these children is slightly more than $37,000 to be used for a college education. In today's dollars, this benefit will pay little more than half of what a college education costs in the most affordable situation. This gap widens when considering the cost of a college education in the future. The most conservative estimate is that costs will increase by 5 percent per year, meaning that in 16 years, the most affordable college education will be $105,800. Military compensation will not keep up with these dramatic increases.

Join Our Effort
Money provided by law simply has not kept up with what a higher education costs today, let alone what college will cost in years to come. Remember, these children are the direct descendants of people who died protecting our country. Their parents made the ultimate sacrifice. The least we can do is make sure they are provided for.

We need your help to make The American Legion American Legacy Scholarship a reality. Too many men and women in uniform have died in the fight to preserve our nation's freedoms. Together, we can make sure their children have the opportunity these parents were unable to provide. We encourage you to give generously to The American Legion Legacy Scholarship Fund. Help us to bridge the gap and restore the faith of these special children.